December 13th was a dark day in the history of the Rennie family.It was the day we lost a good friend and kindred soul.It was the day we found out that Sean Kelley,also known to many as "Rasputin O'Shea",had commited suicide.Even now,we still mourn his loss.
It is still hard for me to write about it now,for it pains me to think that he is no longer among us.He is the first and only member of my pack,clan and crew that I have lost to the cruel hand of Death.
Many other of his friends have set aside space upon their sites in tribute to our late friend.I can do no less.
He was a good musician who had just started to hone his skills in the festival fashion,having started performing on the stages of the festival not long before.Now,we can no longer hear his sweet voice singing shanties or drinking songs.T'is a terrible loss we have faced...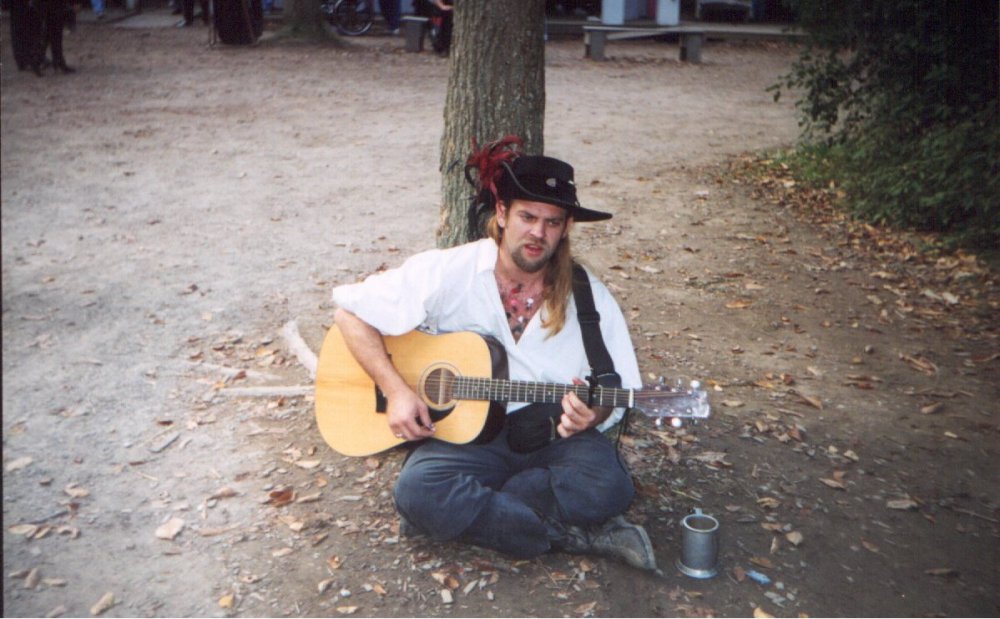 This photo was taken by me about a year or so before Sean's death.I thought it would be a good shot because it showed him at his best,singing a beautiful ballad and easily conveying the strong emotions contained within it's lyrics.
Little did I know that this photo would become the way that I would want to remember him for the rest of my life.

The day after I had gotten the news,I had decided that I should try to write something that would convey the emotions I felt towards my late friend,and honor him in the way he should be.But,I couldn't pick up my pencil or paper for a couple of days.
Normally,I get my inspiration from the Muse,and when it comes,it hits hard.But during the days between his death and my writing the poem below,I think the Muse was grieving as well,for it took a while and a lot of tears before this poem was finished.Even as I write this,several years after,my eyes begin to well up with tears,and I've had to mix a really stiff rum & dew to help me get thru putting this page together.So do me and the rest of the loonies a favor...the next time you go to have a drink,raise it in a toast to Sean and all of the other dear friends who are no longer with us in life.

A Lament to a Friend who is gone...

I see you singing songs
underneath the dawning sky
amidst a glade of clover
with a twinkle in your eye

May your spirit find peace
amongst the hills so fair
where the Fae still dance
with ne'er a care

May you sing with the elves
of happiness,joy and love
and may the starlight shine
upon you from above

You will be missed
as a friend should be
when one is taken away
so very suddenly

One day we will each join you
as our days come to an end
so keep the music and ale a'flowin'
until that time,my friend

We hope you have happiness
wherever your soul may be
but it's within our hearts
you will forever be...

For Sean Kelley (May 17th,1971 to December 13th,1998)

Wolf
December 16th,1998